American Fork Watershed Plan-EA: Public Meeting
Public Meeting Details
Thank you to all those who attended the public meeting we held on January 27, 2021 at 5:30pm!
You can click here to view and download the presentation from the meeting.
Below is the flyer/notice for and recording of the public meeting.
---
AF Public Scoping Notice – Download Full Resolution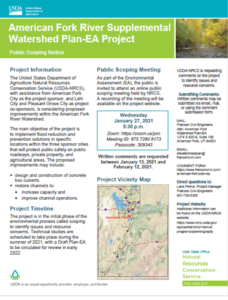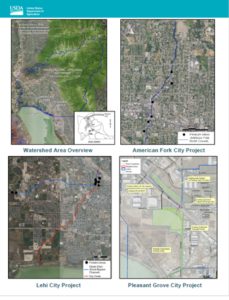 ---
During the public meeting, the following questions were addressed:
Q: Does this project take place within Lindon City boundaries?

A: Yes, a portion of Pleasant Grove City's portion of the project takes place within Lindon City boundaries. This is because Lindon City is between Pleasant Grove City and Utah Lake.
Q: Can the Lehi Irrigation Company remain involved with the coordination of this project?

A: Yes, we have already contacted Lehi Irrigation Company and will continue to keep them in the loop.
A recording of the project informational presentation is below. You can also click here to open it in a new tab: https://youtu.be/7D0K9Kg8EWE.